Welcome to the Pike County Public Library
Digital Library Branch
Check out what is new at the Library this week.
We would like to introduce the newest addition to our branch locations. A digital branch is an online version of our physical library branches. Think of it as a virtual library.
Anyone can use the digital branch, however some features are only available to Pike County Public Library Cardholders. The digital branch is open 24 hours a day, 7 days a week. Even in bad weather or in the middle of the night, the digital branch is open.
We developed this branch in order to support the needs of our customers no matter where they are, no matter what time of day or night. We are constantly updating and adding new content to the website, so bookmark it and check back often.
Please browse and search our electronic resources.   Click on the pictures below to access the resources. All are free with your library card! New material being brought to you through a grant from Indiana Humanities!

Sign up for Wowbrary to see our new arrivals and place a hold on them.
Evergreen Indiana Account Access
Evergreen Indiana is a growing consortium of more than 100 public, school and institutional libraries located throughout Indiana that use the Evergreen Integrated Library System. Patrons of member libraries can use their Evergreen Indiana library card to view the catalogs and borrow materials from the other member libraries.
Evergreen will allow you to check on the status of books and materials available to you. These instructions will guide you through your first visit to the Evergreen "My Account" feature. For future visits, you may click either "Search the Catalog" or the library card to the right to go straight to the catalog to search.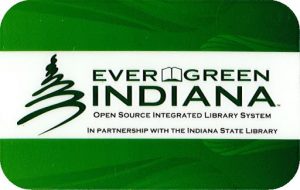 You should have been issued a 4-digit password at the library when you signed up for your card. If you forget your password, call the library. You are responsible for anything that gets checked out to your account.  You can also search the catalog without signing in but will not be able to  access your personal information or place holds on items.
Use the Evergreen Indiana Catalog  to locate items you wish to request/reserve.  Make sure you choose Pike County Public Library from the pull-down Library menu if you are searching for items within our library.  Select Evergreen Indiana if you wish to search all of the Evergreen Indiana libraries.
In order to reserve/request items, you will need a valid Evergreen Indiana Library Card and pin number.  (Call the Library at 812-354-6257 to request a pin number.)  Hope you enjoy it!
The Evergreen App gives you access to hundreds of Evergreen powered libraries throughout the United States and Canada. To use this app, you must have a library card with an Evergreen member library and know your password. If you do not know your password, please contact your local library.
With the App, you can:
* search the catalog * place a hold * review the items you have checked out & renew items
Click here to get started with ABC Mouse

Hoopla provides instant access to movies, television shows, music albums, eBooks, digital comics, and audiobooks to view, listen to, or read on your computer, laptop, or mobile device.  Each Pike County Public Library cardholder can check out 8 titles per calendar month.  To create an account, go to hoopladigital.com and sign up using your library card. Remember your password is the last four numbers of your card.
Getting Started
On a desktop or laptop computer, go to hoopladigital.com.  On a mobile device, download and install the hoopla app from your device's app store.  The hoopla app is also compatible with 7″ and 8.9″ Kindle Fire HDX tablets. You can download the app through the Amazon Appstore on your Kindle Fire HDX tablet. Currently, only audio content (music and audiobooks) can be downloaded to a Kindle Fire, video (TV shows and movies) cannot.
Select Pike County Public Library and enter your library card number.  Enter an email address and password to complete the sign up.
You can search or browse to find titles.  Once you find something, simply click or tap Borrow.  After you borrow a title the return date will appear on the title page.  The option to play will also display.  Borrowed content can be downloaded on mobile devices and viewed or listened to without an Internet connection.  When streaming or downloading content to mobile devices, data rates do apply.  We suggest the use of a Wi-Fi connection. You may come and access Wi-Fi in all library locations as well as the parking lots if needed.
Instructional videos are available at the hoopladigital YouTube channel.  Videos for how to load on and Android or Apple device as well as tablet and Roku install videos. Additional help is available on the hoopla website and you can always contact the library for assistance.

Inspire is Indiana's Virtual Library. It offers access to over 40 databases covering subjects like biographies, magazine and scholarly journal articles, newspapers articles (most recent 30 days), poetry, and short stories. The Testing & Education Reference Center (TERC) has a career interest test, practice tests for SAT, GED, AP, LSAT, GRE, GMAT and other tests for high school, college, and graduate school. Biography Resource Center allows searching for many short biographies. Litfinder finds full text of many poems and stories. Other resources include Kids Search, What Tree Is That?, and Indiana Memory. Click the picture to get started.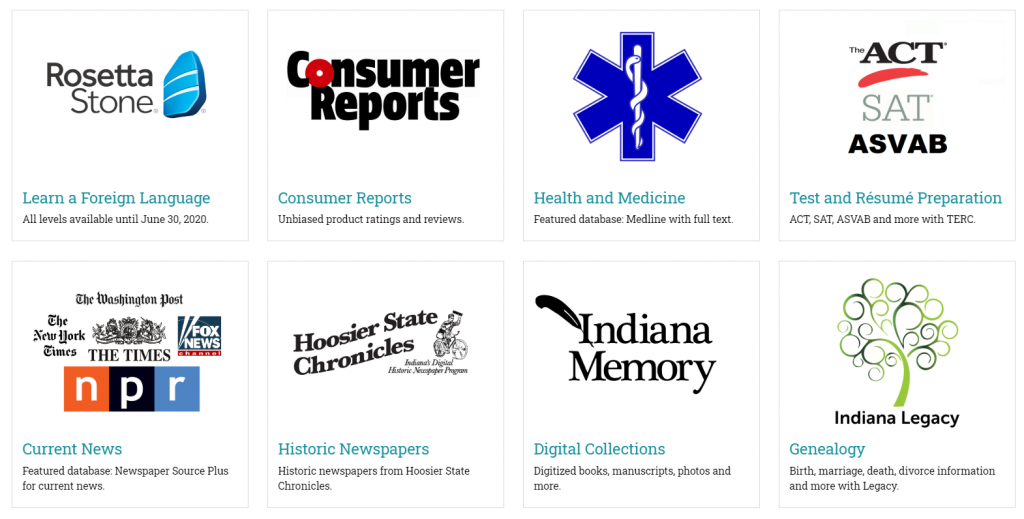 INSPIRE is a service of the Indiana State Library. INSPIRE is supported by the Indiana General Assembly through Build Indiana Funds, The Institute of Museum and Library Services under the provisions of the Library Services and Technology Act and in partnership with the Academic Libraries of Indiana.

OverDrive and Libby Apps, allow you the ability to borrow and enjoy free eBooks, audiobooks, and more from the Library's digital collection. All you need to get started is an internet connection, your library card and pin.
Your library is still here for you. Pike County Public Library (PCPL) is committed to providing patrons access to online resources & safe access to physical materials through limited curbside pickup. 
Curbside pickup is offered for materials currently available at the PCPL Petersburg Branch only. We are currently unable to transfer items on the holds shelf from other locations. In the meantime, we would be happy to connect you to materials that are currently available.
Hours for curbside pickup are 10am-4pm Monday through Thursday & by appointment, as necessary.
To support social distancing efforts, the Petersburg Branch is operating with very limited staff. Wait times for holds placed online are longer than usual. Thank you for your patience.
Follow three easy steps to pick up materials:
Already have an item on hold at Petersburg and you have been notified it is ready.
Skip to step two.
Step One: Place your items on hold
Go to pikeco.lib.in.us and log in to your account or use the Hemlock App to search for items at the Petersburg Location only.

Press the "Place Hold" to put items on hold for pickup. Do not forget to make the pickup location

Petersburg

if you have not already.

You will be notified via email or phone when your hold is ready. You are welcome to call Monday through Thursday from 10am to 2pm to inquire on hold status.
Step Two: Call the Library and schedule a pickup time
After your notification, call Petersburg & schedule a time to pick up items

Be sure to have your library card or Driver's License ready to show

Staff will pull your items, check them out and put them in a bag made possible through a

Indiana Humanities

grant!
Step Three: Pick up your items
Call the library when you arrive

Staff will hang your bag on one of the hooks

Grab your bag and enjoy!